Commercial Skipper

As a Master of Yachts up to 200 tons and an RYA Yachtmaster Instructor, I can skipper the Ocean Sailing Club yacht for you or coach you on board your own boat...
Sample prices for taking a group sailing
These are the total costs for my time on board as Skipper - NOT costs per person.
Notes for Ocean Sailing Club members:
• The Ocean Sailing Club yacht can accommodate 10 people for sailing, but is most comfortable overnight with 8
• For Club members their are no charges for using the yacht, bring your food and top up the diesel after use.
• If the Club requires you to have a professional skipper on board, these are my costs.
Half-day - $500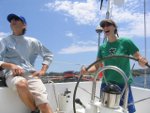 That might be for an afternoon or evening, weekdays or weekends - but remember that the yacht is often used for longer outings at weekends.
For a crew of 9 members that's under $45 each!
Whole-day - $730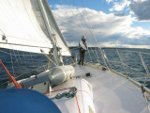 For example from 9 till 5, any day including weekends. That might be for a day sailing within Sydney Harbour, or for a mile building cruise off-shore for the day.
For a crew of 9 members that's about $80 each for a day on the water!
Live-aboard Weekend - $1710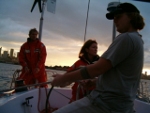 Maybe a day exploring Sydney Harbour, stay overnight somewhere and continue sailing the next day. Alternatively why not get some night hours towards your RYA certification? Sail down towards Jervis Bay and back, sailing overnight.
Staying on board overnight, that would be best with only 7 members, which works out at under $245 each for the weekend afloat!
Live-aboard Long weekend (3 days) -$2440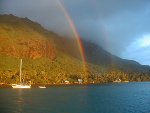 How about ...
Friday - Sail to Pittwater, arrive mid-afternoon. Cruise up the Hawkesbury. Anchor for dinner and overnight.
Saturday - Explore Broken Bay. Lunch and dinner on board. Spend another night at anchor
Sunday - sail back to Sydney.

Staying on board over two nights, that would be best with only 7 members, which works out at about $340 each for three days sailing!
Long range Cruises
The Club will be arranging longer cruises from time to time. These will be at a negotiated rate for my time on board. Do contact the Ocean Sailing Club for details of these trips.
My fees are calculated as follows :
         $250 fixed charge*
then
         $60 per hour.
         $250 additional if overnight.
* Whether it's a 4 hour outing or 4 days offshore, as skipper I have to do maintenance and safety checks etc before we go sailing, return the yacht to its moorings and secure it at the end. And it always takes much longer than you expect to do all this. Hence the fixed charge. Sorry but that's how it is.
* For private coaching/training on your own boat this cost does not apply.
Contact Details
Please call me on 0405 430 525 send me an email using the form below.
Phone: If you're outside Australia, text me on +61 405 430 525 and I'll get back to you.